HOW DO WE ORGANIZE OUR SPA DIRECTORY?
We help consumers find spas both by geographic area (categories), by special interest programs and features, with an event calendar, and by blog posts and articles.   We spotlight our members, retreats, and events in many other ways as well, including our active presence on social media platforms. We share images on Tumblr and Pinterest, we engage regularly on Twitter, and we have a Facebook profile where we have wellness retreats prominently featured on our Tabs.t friendly hotels, green and eco-friendly spas, and many more.
GEOGRAPHY
OUR GEOGRAPHIC CATEGORIES are spa directory listings broken out by country (e.g., USA) and then each state or major area in a country.   This is the most prominent navigation item on our navigation menu.   Consumers may also type in the name of a spa, or even a city or area, in our search menu.
FEATURES
OUR SPECIAL INTEREST PROGRAMS or FEATURES are unique pages of recommended spas and resorts that feature programs of interest to our consumers.   The  best type of retreat is more important to certain consumers, than its actual location.     These specialty or niche pages present options to consumers without regard to geographic location. Special programs and features include weight loss retreats, detox retreats, fitness retreats, pet friendly hotels, green and eco-friendly spas, and many more.
ARTICLES AND SPONSORED POSTS
OUR BLOG POSTS AND ARTICLES help spotlight special getaways, spa lifestyle tips and ideas, curated lists of retreats which offer stop smoking programs, award winning programs, and health and wellness advice from our professionals.  We welcome guest articles from our members, which while we ask that they have a global appeal (as opposed to a personal profile), we give by-line credit, a bio, and a link to the contributing member's retreat, for added visibility.
EVENTS
OUR EVENT CALENDAR shows retreat dates and special events which, by their very nature, date specific.  Perhaps a theme week, a seminar with special speaker, a cruise with a wellness program which departs on specific dates, or seasonal retreats where a consumer can pick a start date, but, the retreat still falls within a limited seasonal window.
SITE AND PAGE TRAFFIC
Our popular, and largely advertisement free website, has climbed to popularity over a nearly 20 year period. We started with a list of spas in California, and grew to include nearly 40 countries, and grew again still to include special interest programs.  It isn't unusual for us to receive more than a million unique visitors in a year.  In calendar year 2016, we were visited by nearly 800,000 unique visitors, who collectively viewed our listings, pages, and articles over 3.7 million times, and, when adding how many times pages, listings, articles, images and searches were viewed on major search engines and social media platforms, resulted in a huge number of hits — more than 15,000,000 displayed resources seen by people, search engines and the internet universe.
HOW DO OUR READERS FIND YOUR SPA?
Our readers find day spas, spa resorts, destination spas and wellness retreats, plus all of our featured content, in a number of ways, including: 
Visiting our site and using the pull-down menu to select a geographic category
Visiting our site and using the spa search tool to search by name, city or location (bypassing the pull down menu entirely)
Direct clicking on our search-engine-optimized content (listings, articles, pages and featured articles) which show in search engine results
GEOGRAPHIC POPULARITY
We have directory categories for every state in the USA, plus many other countries and regions in the world. From these 130+ geographic categories, we have depicted the most popular categories visited by consumers in calendar years 2015 and 2016.   The order of this can change frequently for global locations due to seasonal popularity, weather, holidays and similar factors. 
POPULAR SPECIAL INTEREST FEATURES
We monitor what our consumers are searching for, and how they land on our site, and over the years, we've created special interest pages of every type, ranging from weight loss retreats to pet-friendly hotels.  This screen capture shows the most popular of these special features — just a partial list as the actual list would be a page long — as visited by consumers in calendar year 2015.  
You will note that certain features are shown twice, like weight loss or detox. This is because we determined that more consumers searched our site for "weight loss retreats" than "weight loss spas" and "detox retreats" rather than "detox spas" and we changed the names of those pages accordingly, midway through the year.  The consumers landed on the same page, but results are split between the two (2) different names we used in the same calendar year.  The newest of these pages is Fitness Retreats. There are many consumers who don't necessary need to lose weight, and don't believe  they need to detox, but nevertheless want a fitness vacation. 
BEST SPAS LISTS
These "best of" and "tips" articles help us showcase our staff and readers picks for Best Specialty Retreats, Best Day Spas in popular cities, Best Tips for Health and Wellness, and more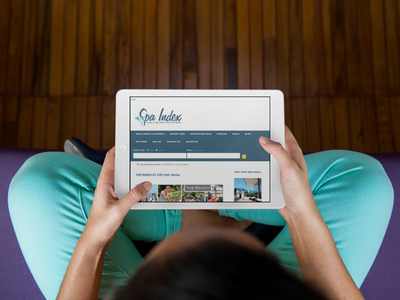 WHERE IS SPA INDEX ADVERTISED, ITSELF?
We purchase Facebook Advertisements because they reach our narrowly  targeted demographic of spa and wellness retreat enthusiasts.  We occasionally purchase Google Ads during theme months and when we have special events to promote.  
We have minimal print media because it isn't necessary. Our search engine rankings is largely sufficient to market our spa members that we don't need to pay to spread our own name.  Further, we don't sell a product to the consuming public and thus, we don't need to hang gift cards in CostCo next to tires and toothpaste, we don't sell coupons on Groupon or Facebook (we actually market them for our members, but ours are free, as coupons should be).   Every listing, every page, and every topic we market — is for the benefit of our spa and wellness members.  If we help those partners succeed, that's our measure of success. 
2016-2017 SPA INDEX DEMOGRAPHICS
FEMALE Visitors, Followers and Fans

86%

MALE Visitors, Followers and Fans

12%

UNDECLARED GENDER Visitors, Followers and Fans

2%

AGE 65+

6%

AGE 55-64

11%

AGE 45-54

26%

AGE 35-44

31%

AGE 18-34

24%

AGE UNKNOWN

2%

SPA ENTHUSIAST – PARTICIPATES IN 1 OR MORE ANNUAL RESORT SPA-CATION

31%

SPA ENTHUSIAST – PARTICIPATES IN 1 OR MORE ANNUAL RETREATS

22%

SPA ENTHUSIAST – INVESTIGATING FIRST TIME RETREAT ATTENDANCE

19%

SPA ENTHUSIAST – QUARTERLY DAY SPA GUEST

15%

SPA ENTHUSIAST – MONTHLY DAY SPA GUEST

13%